Event Detail
This event has already taken place! Please make sure you are in the correct year. | ¡Este evento ya ha tenido lugar! Por favor, asegúrese de estar en el año correcto.
×
Back to Events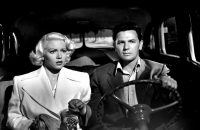 Cine y Teatro :: Cine
FILM NOIR The Postman Always Rings Twice
4:00 PM
Teatro Santa Ana
Description | Descripción:

FILM NOIR 4

The Postman Always Rings Twice
Jan. Fri. 12 at 4 PM
Teatro Santa Ana
Reloj 50, Centro
$70.00

"A beautiful femme fatale saunters into an unsuspecting man's life and entices him into committing murder for her." This logline could be used to describe any number of classic film noirs. Most of this can be traced back to author James M. Cain, who wrote two books—Double Indemnity and The Postman Always Rings Twice—that hinged on this premise. In the case of Postman, the archetypal sucker is a drifter (John Garfield) who falls into an affair with a beautiful married woman working at a diner (Lana Turner, in one of her most memorable performances). The two subsequently hatch a scheme to murder the woman's much-older husband and seize control of his assets. Incidentally, MGM actually purchased the rights to Cain's novel shortly after it was first published 12 years prior, but it took the success of Billy Wilder's Double Indemnity adaptation at Paramount to convince them the story and its mature themes were a viable gamble. Even before that, Cain's book had been unofficially adapted into two foreign productions—Le Dernier Tournant in France and Luchino Visconti's Ossessione in Italy. It would go on to be adapted several more times, including again in 1981 with Jack Nicholson and Jessica Lange, but the 1946 version, with its button-pushing steaminess and stylish direction, remains the gold standard.
Director: Tay Garnett. Year: 1946. Cast: Lana Turner, John Garfield. Running Time: 1:53 Min.


Age Group | Grupo de edad: All Ages

Venue | Lugar de encuentro:
Teatro Santa Ana
Visit Venue Page | Visita la página del lugar
Address | Dirección:
50 Relox San Miguel de Allende, Guanajuato 37700
Get Directions | Obtener las direcciones
Phone | Teléfono: 152-7305