Event Detail
This event has already taken place! Please make sure you are in the correct year. | ¡Este evento ya ha tenido lugar! Por favor, asegúrese de estar en el año correcto.
×
Back to Events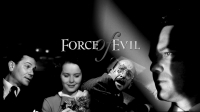 Cine y Teatro :: Cine
FORCE OF EVIL / LA FUERZA DEL MAL
3:00 PM
Teatro Santa Ana
Description | Descripción:

FILM NOIR
FORCE OF EVIL / LA FUERZA DEL MAL
Thursday, January 25 at 3:00 PM
Teatro Santa Ana
Reloj 50, Centro
$70.00
Con subtítulos en Español
A favorite of Martin Scorsese, Force of Evil centers on a lawyer who finds himself involved with an influential gangster looking to take over all smaller rackets in town. The problem? One of those desirable rackets is run by the lawyer's older brother. Like T-Men, the film makes great use of shooting on location. Moreover, at times, the film's familial themes and stylized writing help elevate the conflict to near Shakespearean levels (or Biblical levels, considering how frequently it alludes to the story of Cain and Abel). Though relatively small in scale, Force of Evil finds greatness in its aim to convey grandiose, large-scale ideas.

Force of Evil has many of the ingredients of a standard film noir (the compromised
hero, the criminal milieu, themes of betrayal and hypocrisy, shadowy
locales), but director Abraham Polonsky overlays these elements with some of the
trappings of an art film. These include a stylized poetic strain of dialogue, a lack
of concern for audience expectations about action and character identification,
a schematic narrative, and a rather abstracted take on social realism. All these
make the film very unusual for the genre. It is thereby an attenuated emotional
experience but still has strong aesthetic values. Examining the numbers racket,
Force of Evil does not focus on the gang leaders as 1930s films might have, but
instead, in true noir manner, concentrates on marginal figures such as the Morse
brothers, who are involved with the gangsters and affected by them. Notes compiled by Elías Nahmías.

Discussion after the film. Con Subtítulos en Español

Director: Abraham Polonsky Year: 1948. Cast: John Garfield, Thomas Gomez, Marie Windsor. Running Time: 1:18 Min.


Age Group | Grupo de edad: All Ages

Venue | Lugar de encuentro:
Teatro Santa Ana
Visit Venue Page | Visita la página del lugar
Address | Dirección:
50 Relox San Miguel de Allende, Guanajuato 37700
Get Directions | Obtener las direcciones
Phone | Teléfono: 152-7305