Event Detail
This event has already taken place! Please make sure you are in the correct year. | ¡Este evento ya ha tenido lugar! Por favor, asegúrese de estar en el año correcto.
×
Back to Events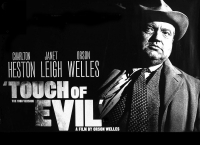 Cine y Teatro :: Cine
TOUCH OF EVIL / SED DE MAL ( RECONTRUCTED VERSION!)
5:30 PM
Teatro Santa Ana
Description | Descripción:

FILM NOIR
TOUCH OF EVIL / SED DE MAL ( RECONTRUCTED VERSION!)
Thrusday, January 25, at 5:30 PM
Teatro Santa Ana
Reloj 50, Centro
$70.00
Con subtítulos en Español
With its legendary opening, a single, crane-enabled shot just shy of three-and-a-half minutes in length, Orson Welles essentially closed the book on the classic noir era—and rewrote his own legacy in the process. Welles was 20 years into his career and a Hollywood has-been at 42 when he signed on to adapt Whit Masterson's novel Badge of Evil for the screen. The result is a masterwork wrought by an auteur of monumental brass ones, even for Welles. The film opens at night, as a bomb is placed in the trunk of a convertible just before an unwitting couple take a drive through town. An echoing strain of horns and percussion situate us in an exotic, obviously dangerous locale, the natural sounds of the streets weaving in and out with the rock 'n' roll playing on the car stereo. Cinematographer Russell Metty slowly pans away to refocus our attention on Mexican DEA agent Charlton Heston and his American bride Janet Leigh—a bit of breezy, expository chitchat fills us in on those details. They stroll through customs, across the border, into the U.S. on foot and share an embrace, just as the convertible explodes in front of them. In one extended take, we're hurtled into this thriller with a minimum of screen time and maximum of suspense. Sure, Wells himself will soon command the frame as a fat, drunk, cane-toting corrupt cop, as will Marlene Dietrich as a brothel madam, and Dennis Weaver as a sketchy hotel night manager. The plot will double down with a manhunt, kidnapping, gang rape, drugs and more in a yarn as thick and filthy as Welles' villain's final resting place. Notes compiled by Elías Nahmías.
Con subtítulos en Español - Discussion after the film.
Director: Orson Welles Year: 1958. Cast: Orson Welles, Charlton Heston, Janet Leigh, Marlene Dietrich. Running Time: 1:51 Min.

Age Group | Grupo de edad: All Ages

Venue | Lugar de encuentro:
Teatro Santa Ana
Visit Venue Page | Visita la página del lugar
Address | Dirección: Reloj 50 San Miguel de Allende, Guanajuato 37700
Phone | Teléfono: 4151527305