Event Detail
This event has already taken place! Please make sure you are in the correct year. | ¡Este evento ya ha tenido lugar! Por favor, asegúrese de estar en el año correcto.
×
Back to Events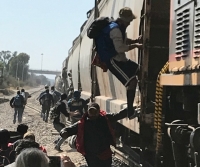 Cine y Teatro :: Documental also Cine y Teatro :: Documental
film: ?Walk With Us?
6:00 PM
Teatro Santa Ana
Description | Descripción:

Documentary
film: "Walk With Us"
back by popular demand
Tue, Feb 19, 6pm.
Teatro Santa Ana
La Biblioteca.
100pesos
The migrant crisis through the eyes of Pastor Ignacio Martinez, the founder of ABBA safehouse in Celaya,
"It's not about us - it's about the dignity of our brother 'travellers".
It started when Ignacio heard Central American migrants were waiting at the tracks to jump trains . He and his family took them food, but soon discovered their huge needs .Some were sick, there was nowhere to wash or sleep. So he founded ABBA, where they can rest, receive food and medical and psychological help .
The film shows the gap between President Trump calling migrants "rapists and criminals" - and the sad reality. Most are escaping abject poverty and gang violence in El Salvador, Honduras and Guatemala . Their governments - backed by the US for decades, - are enmeshed in endemic corruption The migrants' dreams of a better life in the USA have been met by tear gas at the border.
They are part of a worldwide crisis - 68 million migrants are on the move. The ravages of climate change will create millions more. Yet nations refuse them. Britains' Brexit aims to ban them. Many Syrians, Afghanis and Iraqis languish in sordid camps in Greece, or are beaten from the borders of Croatia, Hungary and Poland. The irony is that many countries have aging populations and declining birthrates. So immigrants – who do the work that no one wants – are needed.
In this world of nationalism and xenophobia, Ignacio's work is vitally important
"They are people like us, with rights and dreams of a better life, and hoping to create opportunities for their children."
ABBA is supported by Caminamos Juntos, The Latin American Relief Project, the traintracks Migrant Relief Project and Stan Allens' 'shoes for migrants"
The directors will be present:
Judy Jackson's life was threatened many times as she made films documenting dictatorship, torture, disappearance,.
Dennis Lanson's work has appeared on PBS and at many festivals. He is making a film about a dying Newfoundland town,.


Age Group | Grupo de edad: All Ages

Venue | Lugar de encuentro:
Teatro Santa Ana
Visit Venue Page | Visita la página del lugar
Address | Dirección: Reloj 50 San Miguel de Allende, Guanajuato 37700
Phone | Teléfono: 15 27305