Event Detail
This event has already taken place! Please make sure you are in the correct year. | ¡Este evento ya ha tenido lugar! Por favor, asegúrese de estar en el año correcto.
×
Back to Events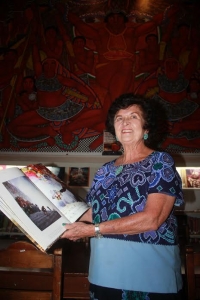 Conferencias :: Conferencias
San Miguel's Street Names Reveal History
3:00 PM
Teatro Santa Ana
Description | Descripción:

San Miguel's Street Names Reveal History, Unique Sites, Zoo
February 19, 3-4 pm Sala Quetzal
by Kathleen Bennett

The final program of the 6 week Virtual Walking Tours titled San Miguel's Secrets Revealed will be presented in the Library's Sala Quetzal on Tuesday, February 19, 3-4 p.m. Surely the best has been saved for the last! Virtual tours require absolutely no walking! All proceeds from ticket sales are donated to support the many free children's classes and programs offered by San Miguel's Biblioteca.
Street names in San Miguel are related to events or persons important in Mexico's past. For example, La Corregidora Street refers to a heroine of Mexico's War for Independence (1810-1821), Maria Josefa Ortiz Dominguez. Juarez Street refers to Mexico's first indigenous president, elected in 1857. Benito Juarez and his supporters passed the Reform Laws divesting the Catholic Church of significant lands and wealth. San Miguel's Bellas Artes and Biblioteca were two of many properties expropriated by the Mexican government during Juarez' presidency. Learning the historical connections of San Miguel's street names provides a good basis for understanding more about this city's important past.
Why do many streets in San Miguel change names every block or two? As though to further confuse, why are there so many duplicate street names? Consider that there are two streets named Guadalupe, three named Soledad, and four named San Juan. Naturally, Ignacio Allende's surname is often found as part of a street name. What happened to chronological numbering of buildings in San Miguel's city center? A walk along the Ancha de San Antonio reveals numbering of buildings beginning with 1, 9, 11A, 15A, 23, 25, 9, 11. Confusing? Hence, finding a specific address in San Miguel can be frustrating.
Have you noticed truly odd and unusual features in San Miguel's architecture? There are water spouts shaped like animal heads and arms without bodies. Where can one find San Miguel's most
narrow house? Or where is a tavern with its name printed backwards on the outside wall? Exploring these unusual features adorning local buildings is fun and creates a new perspective when walking in San Miguel.
Finally, San Miguel's Zoo will be explored during this final virtual walking tour. The presenter, Kathleen Bennett, resides full time in Sa Miguel where she volunteers as a History Guide for the Library. Previously she worked as an instructor at the University of Colorado, a commercial pilot, and owned a real estate business in Boulder, Colorado. She has authored articles and books about adventure travel. Kathleen unabashedly confesses to an insatiable curiosity about San Miguel's history.
By understanding more of San Miguel's fascinating history, your future walks about this beautiful colonial city will be enhanced. Tickets for this final virtual tour can be purchased at the Library's East Entrance desk Monday-Friday 10.30am – 7.00 pm and Saturdays 10.00 am to 2.00 pm. Cash only; 200 pesos. Thank you for your support of San Miguel's Library.

Age Group | Grupo de edad: All Ages

Venue | Lugar de encuentro:
Teatro Santa Ana
Visit Venue Page | Visita la página del lugar
Address | Dirección:
50 Relox San Miguel de Allende, Guanajuato 37700
Get Directions | Obtener las direcciones
Phone | Teléfono: 152-7305