Event Detail
This event has already taken place! Please make sure you are in the correct year. | ¡Este evento ya ha tenido lugar! Por favor, asegúrese de estar en el año correcto.
×
Back to Events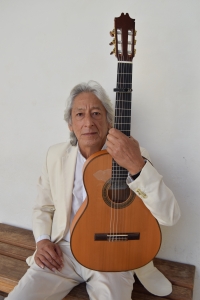 Music / Musica :: Concierto also Music / Musica :: Concierto
Gypsy Guitar concert
7:00 PM
Teatro santa Ana
Description | Descripción:

Concert
Gypsy Guitar
Wed, April 18, 7pm
Biblioteca Pública
Sala Quetzal.
Reloj 50 A
200 pesos
By Javier Estrada:
Remote, sleepy eyes, with a lost look on the vast horizon, wearing arrogant colors and wrapped in the music of the infinite hymn of the poor squeals of their wrecked carts, decorated by the sounds of the hoofs of his solitaries horses, they enter these lands in the fifteenth century.
Where do they come from? So strange, so proud, while these women breastfeed their young kids; the elderly more idly, wondering these new paths. Here is the price to pay to remain what they have always been, birds of passage, intrusive outsiders: the patriarch of the clan scrutinizes between the cracks of the landscape and think that heres, as any other part of the world, the tribe will not give up for anything, an old custom which they call Freedom.
In this guitar concert, Javier Estrada will describe with musical notes and poetry, the life of the Roma People. Do not miss thisuniqueexperience.

Age Group | Grupo de edad: All Ages

Venue | Lugar de encuentro:
Teatro santa Ana
Address | Dirección: Reloj 50 San Miguel de Allende, Guanajuato 37700
Phone | Teléfono: 4151527305