Event Detail
This event has already taken place! Please make sure you are in the correct year. | ¡Este evento ya ha tenido lugar! Por favor, asegúrese de estar en el año correcto.
×
Back to Events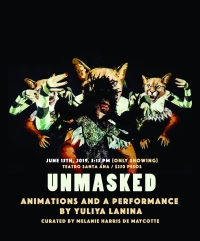 Cine y Teatro :: Teatro also Cine y Teatro :: Teatro
UNMASKED
5:15 PM
Teatro Santa Ana
Description | Descripción:

Performance Art and Animations
UNMASKED: ANIMATIONS AND PERFORMANCE ART BY YULIYA LANINA
by Yuliya Lanina – production of Polyglot Gallery
Sat, June 15, 5:15 pm
Teatro Santa Ana
Phone 001512.767.8084
$250 pesos
by Melanie Harris de Maycotte
Unmasked is a curated selection of animations and a performance by Russian-born multimedia artist, Yuliya Lanina that will be performed at the Teatro Santa Ana on Saturday, June 15. Lanina's work exists at the intersection of visual and performing arts, poetry, technological innovation, and explores social issues as she turns the traditional medium of painting and sculpture into a multi-dimensional and immersive experience for the viewer, creating multimedia performances, installations, animations, and mechanical sculptures based on her paintings.
The exhibition of Lanina's work will start with two of her animations, the first -Theme and Variations- is a stop motion animation that features music by Olivier Messiaen performed by violinist Tatiana Berman and pianist Irina Botan. In this exemplary animation of Lanina's work, painted images of anthropomorphic creatures are set in motion against a lush background of cloudy skies and green pastures, their movement hewing closely to the music. The second animation that will be presented is Dodo-Valse which depicts a vision of an idyllic past as seen through the eye of a forest deity. Blue skies and green pastures serve as a backdrop to scenes of Arcadian bliss, where anthropomorphized plants and animals live and love in a world of heavenly utopia. But the vision is ephemeral – the skies are fragile, the grass is synthetic, the Big Fish is hungry, and only the porcupines make it out alive. The musical score for this piece was composed by Yevgeniy Sharlat.
The opus of the evenings sampling of Lanina's work is, Misread Signs, her most recent multimedia performance featuring animatronic sculptures, a projected animation, music, and movement. Dressed as one of her creatures, Lanina performs (choreography by Andrea Ariel) in front of the projected animations, accompanied by her animatronic sculptures. Lanina's images are inspired by the Surrealist and Dada approach to creating images, with the subconscious taking the lead and leaving analytical thinking behind and by embracing the nonsensical and surprising. By exploring the life of fantastic and bizarre creatures, the artist is able to reach places unavailable to the rational self, inviting the audience to do the same. In this piece, most of the characters on the screen are masked. At first, they are aloof, unmoved by Lanina's pleas; later, they relay a powerful message to her. In the projected animation, Lanina's collaborator, the Colombian composer José Martinez uses distorted recordings of Lanina's voice as his audio material in order to convey the urgency of expression.
The event is curated and produced by Melanie Harris de Maycotte, the previous owner of Galeria/Atelier (later rebranded Polyglot Gallery) which relocated from Fabrica La Aurora to Texas in 2012. The performance which debuted in New York City in May will be shown only once in Mexico on Saturday, June 15, 2019 at 5:15 PM. You may purchase tickets ($250 pesos, benefiting the Biblioteca Publica) directly at the theater leading up to the performance or at the door up until an hour before on the night of the performance. As a generous gesture by the event sponsor tickets purchased for this event will be valid for a free glass of wine at the performance and at your next visit to Bodega Dos Buhos.

Age Group | Grupo de edad: All Ages

Venue | Lugar de encuentro:
Teatro Santa Ana
Visit Venue Page | Visita la página del lugar
Address | Dirección: Reloj 50 San Miguel de Allende, Guanajuato 37700
Phone | Teléfono: 15 27305