Event Detail
Back to Events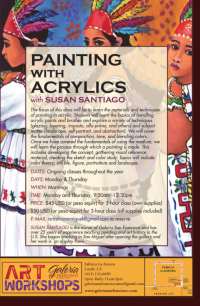 Art / Arte :: Arte also Art / Arte :: Arte
Acrylic Painting with Susan Santiago
9:30 AM
Galeria San Francisco at the Fabrica Aurora
Description | Descripción:

The focus of this class taught by Susan Santiago, owner of Galeria San Francisco, teaches the materials and techniques of painting in acrylic. Students learn the basics of handling acrylic paints and brushes and explore a variety of techniques such as glazing, layering, impasto. Students can work with different subject matter such as portraits, landscapes or abstraction. The fundament;as of composition, tone, and blending colors will be covered. The cost of the class is $50 USD or peso equivalent and include all the materials.
Age Group | Grupo de edad: All Ages

Venue | Lugar de encuentro:
Galeria San Francisco at the Fabrica Aurora
Address | Dirección: Cazada de Aurora S/N Local #E San Miguel de Allende, Guanajuato 37710
Phone | Teléfono: 415-152-6699